The whole story begins with you
Shop
You buy a pair of
Warby Parker glasses.
Donate
We tally up the number of glasses sold and make a monthly donation to our nonprofit partners, which covers the cost of sourcing that number of glasses.
Train
The nonprofit trains men and women in developing countries to give basic eye exams and sell glasses to their communities at affordable prices.
Go forth
These men and women work hard to spread awareness and make eyecare available to their communities.
"But wait," you're thinking, eyes narrowed in suspicion. "Why sell the glasses? Why not just donate them?"
Glad you asked.
It's a sticky fact of life that kind-hearted gestures can have unintended consequences. Donating is often a temporary solution, not a lasting one. It can contribute to a culture of dependency. It is rarely sustainable.
Instead of donating, our partners train men and women to sell glasses for ultra-affordable prices, which allows them to earn a living. More important, it forces our partners to offer glasses that people actually want to buy: glasses that fit with local styles, look good, work well, and make the wearer feel incredible.
Because everyone wants to feel incredible.
With your help, we've distributed
over two million pairs of glasses to people in need.
Watch the video

What's the impact of a single pair of frames?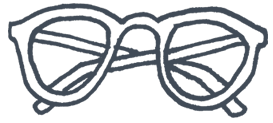 A pair of glasses

increases
productivity
by 35%

and increases
monthly income
by 20%
703 million people currently live without access to eyewear.
Our work is cut out for us, our sleeves are rolled up, and we're excited to move forward together.

Sources: World Health Organization, VisionSpring
Learn more on our culture page >
Meet a few of the people we work with
Toti and Omprakash, Bharti,
and
Karan
Our primary partner is VisionSpring, a non-profit that trains low-income men and women. We're kindred spirits: our co-CEO Neil once worked as Director of VisionSpring (and was their second employee!). During his time in the field, Neil learned the nuts and bolts of glasses: how they're manufactured, how they're distributed, how they're received, and how all three processes can be done differently.