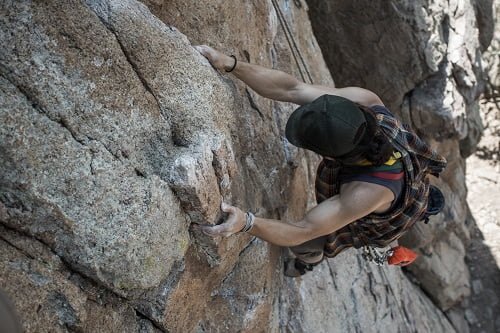 Climbers require protection from falling rocks, as well as contrast enhancing lenses to spot the small nooks and crannies.
Prescription Options
You can have your prescription fitted directly into the frame.
You can also have an optical insert adaptor which has your prescription glazed into it.
You can be fitted with contact lenses and then wear your sunglasses over the top.
Lens Guide
Photochromatic lenses are beneficial for climbing, as often you move from areas of shade and then into bright light
Anti-reflective coatings can be applied to the front or back surface of your lenses.  This provides you with better clarity of vision
Mirror coatings are normally good for overall reduction in brightness
Anti-fog treatment will repel the mist that can cloud your vision
Oleophobic and Hydrophobic treatment will stop dirt and grease sticking to your lens, maintaining distraction free vision
Impact resistance for all round protection whilst climbing
Lightweight for increased comfort
Optical precision can be created as we can glaze your prescription into the lens or have an insert
100% UV protection advised
Interchangeable lenses for different conditions
Tint Guide
GREY
Good all purpose
Good choice for climbing in bright sunshine
Minimises colour distortion
Good choice for bright conditions
BROWN:
Provides high contrast
Good colour balance
Soothing to the eye
ORANGE/COPPER
Good choice for partly sunny conditions
See terrain better, like pot holes, rocks and mud
YELLOW
Most effective in low light conditions, or overcast days
Superior increase in contrast enhancement
Frame Guide
It is important that the frames are lightweight and comfortable.  They also should fit firmly on your face, so that you don't have the fear of them slipping down every time you swing.
Lightweight
Wrap-around style
Adjustable nose pads
Thermogrip is made with hydrophilic material, which has moisture absorbing properties that keep the frame firmly in place whilst sweating
Adjustable temples
Oversized frames with deep lenses offer a wider field of vision
Allow some airflow, as this will help prevent lenses from misting over
Catch your eye problems early and prevent disease progression
Leading Eyewear Fashion Brands, High quality Lenses